---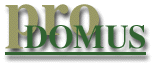 ProDomus is pleased to announce that the ProDomus line of Clarion Accessory Tools has been successfully acquired by CapeSoft. This transfer means that existing users will have access to maintained builds and some support going forward. ProDomus will remain active on the support side for some time ensuring a smooth transition.

ProDomus has been making popular Clarion Accessories since the early days of Clarion for Windows, and has earned a reputation for both quality products and quality support and service. The flagship product, Translator Plus has long lead the way in application translation and is used by Clarion developers all over the world. Passing the baton on to CapeSoft ensures that their future is secure. CapeSoft is already a premier Clarion Accessory supplier with over 40 accessories currently available. As an active participant in the community, and a reputation second to none, CapeSoft is the ideal home for the ProDomus products in the long term.

ProDomus will continue market and support ProAct, designed for internationalized contact management, emailing, letter writing, invoicing, proactive tasking used by small businesses and associations. Contact info@prodomus.com for more information..